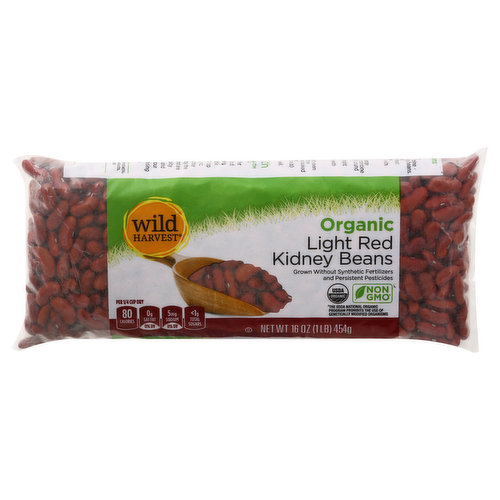 Wild Harvest Kidney Beans, Organic, Light Red, 16 Ounce
Sale Information
Sales price valid from 9/3/2022 until 10/8/2022
Description
Per 1/4 Cup Dry: 80 calories; 0 g sat fat (0% DV); 5 mg sodium (0% DV); less than 1 g total sugars. USDA organic. Gluten free. Certified organic by California certified organic farmers. Non GMO (The USDA national organic program prohibits the use of genetically modified organisms). Grown without synthetic fertilizers and persistent pesticides. Live Free with Wild Harvest: Wild Harvest organics offer a complete selection of food products that are free from more than 140 undesirable ingredients. But we don't stop there wild harvest organic products go one step further and are certified organic by the USDA's strict standards and are made high quality ingredients from growers and manufacturers who share our commitment to uncompromising quality at a great value. Beans are a natural agricultural product. Despite use of modern cleaning equipment, it is not always possible to remove all foreign material. Sort and rinse beans before cooking. www. mywildharvest.com. To learn more about Wild Harvest products, including our full line of organic products, and for more recipes, please visit www.mywildharvest.com
Ingredients
Organic Light Red Kidney Beans.
Nutrition Facts
13 servings pr container
Product Number: 00711535505723
Sale Information
Sales price valid from 9/3/2022 until 10/8/2022
Description
Per 1/4 Cup Dry: 80 calories; 0 g sat fat (0% DV); 5 mg sodium (0% DV); less than 1 g total sugars. USDA organic. Gluten free. Certified organic by California certified organic farmers. Non GMO (The USDA national organic program prohibits the use of genetically modified organisms). Grown without synthetic fertilizers and persistent pesticides. Live Free with Wild Harvest: Wild Harvest organics offer a complete selection of food products that are free from more than 140 undesirable ingredients. But we don't stop there wild harvest organic products go one step further and are certified organic by the USDA's strict standards and are made high quality ingredients from growers and manufacturers who share our commitment to uncompromising quality at a great value. Beans are a natural agricultural product. Despite use of modern cleaning equipment, it is not always possible to remove all foreign material. Sort and rinse beans before cooking. www. mywildharvest.com. To learn more about Wild Harvest products, including our full line of organic products, and for more recipes, please visit www.mywildharvest.com
Product Number: 00711535505723
Ingredients
Organic Light Red Kidney Beans.
Nutrition Facts
13 servings pr container
Product Number: 00711535505723