Search results
Whitmor Clothesline, Poly Cotton, 80 Feet, 80 Foot, $4.59
Durable design for indoor/outdoor clothes drying. Cotton covered cord with polypropylene core to add strength and reduce stretch. Bringing organization home. 1-888-Whitmor. www.whitmore.com. Working loads are for rope in good condition with appropriate splices, in non-critical applications and under normal service conditions. Working loads are not applicable when rope is subject to shock or dynamic loading. These can cause failure to rope that is normally strong enough to handle the job. Do not stand in possible recoil path in case a failure occurs. Made in China.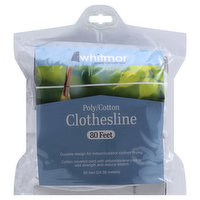 Whitmor Clothesline, Poly Cotton, 80 Feet, 80 Foot
Open Product Description
Whitmor Clothespins, Natural Wood, 50 Each, $3.69
Set of 50. Bringing organization home. Heavy-duty wood with wax coating. Sturdy, galvanized, no-rust wire springs. Comfortable no-slip finger grips. www.whitmor.com. Made in China.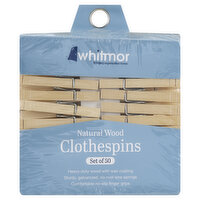 Whitmor Clothespins, Natural Wood, 50 Each
Open Product Description