Search results
Bob's Red Mill Polenta, Yellow Corn, 24 Ounce, $4.49
Yellow Corn Polenta is made from the highest quality yellow corn. It's ground the traditional way, from dried corn, and ready to use in countless recipes. Make spectacular Italian and Mediterranean dishes at home.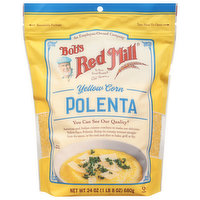 Bob's Red Mill Polenta, Yellow Corn, 24 Ounce
Open Product Description
Can't find what you're looking for?