Search results
Cape Cod® Original Kettle Cooked Potato Chips, Snack Bags, 10 Ounce, $7.49
Enjoy 10 individual bags of Cape Cod Original Kettle Cooked Chips made with the pure taste of potato. And you can be sure there's nothing else like them when it comes to their robust flavor and distinctive crunch. We take choice potatoes, slice them perfectly, add oil and sea salt, then kettle cook them one batch at a time in custom kettles. You can count on potato chips that are cooked precisely at the right temperature until they reach a golden-amber hue. You'll see that unique shapes and folds mean one-of-a-kind chips, but they all share the same, wonderful Cape Cod crunch. With 10 single-serve snack bags in this multipack, you can enjoy them at home as a snack or a side, or on the go. Our potato chips are famous for their high quality and remarkable flavor, so be sure to try all the traditional and unique varieties. Every distinctive chip feels like an invitation to come savor everything that's special about Cape Cod Kettle Chips.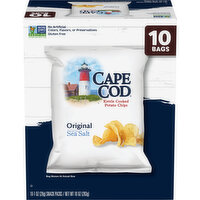 Cape Cod® Original Kettle Cooked Potato Chips, Snack Bags, 10 Ounce
Open Product Description
Can't find what you're looking for?