Scott Bathroom Tissue, 1000 Sheets Per Roll, Unscented, One-Ply, 12 Each, $13.99
12 rolls = 12,000 sheets. 12 rolls last 12 weeks (based on avg. household size and usage of Scott 1000 users). 1000 sheets per roll. Clog free. Septic safe. FSC: Mix - Paper from responsible sources. www.fsc.org.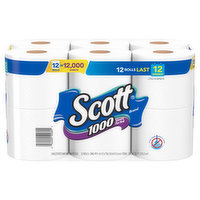 Get Free Delivery when you spend $50 on Cottonelle, Kleenex, Viva, Scott, Huggies, Pull-Ups, Goodnites, U by Kotex, Poise and Depend Products.
Scott Bathroom Tissue, 1000 Sheets Per Roll, Unscented, One-Ply, 12 Each
Open product description
$13.99
was $14.99
$1.17 each