Easy Entertaining with Cub Deli
At Cub, we love to help with party planning. Order party trays and party platters, the best fried chicken in town, holiday meals that you pick up fully cooked and chilled and then heat and serve, sandwich trays, and more. Contact your Cub deli for menus and advice on quantities for your next party. Whether you're hosting a backyard BBQ, graduation party, bridal shower or holiday feast, we make the food prep easy and delicious, so you can focus on the fun!
Order A Complete Thanksgiving Dinner from Cub
This year, simplify your Thanksgiving feast by letting the Cub Deli make your turkey dinner so you can focus on making memories.
Order one of our heat-and-serve feasts, complete with turkey and 7 classic (and delicious) sides! Reserve your meal at least 48 hours in advance. Available for pickup starting November 11, 2023, while supplies last.
Reserve A Complete Ham Dinner from the Cub Deli
Simplify Your 2023 Holiday Prep
This year, let our deli make your holiday dinner so you can focus on making memories. Order your heat-and-serve ham feast, complete with a 6 lb. Kretschmar ham and six classic (and delicious) sides! Pre-order your meal at least 48 hours in advance. Meal pickup is available December 1 - 23, 2023.
Three Easy Ways to Pre-Order
Stop into your neighborhood Cub bakery/deli and order in person.
Call Cub and place an order over the phone. Find your store's phone number.
Note: For large orders quantities, please order at least 48 hours in advance.
Feeding A Crowd?
Relax – we've got you covered! The Cub Deli offers party subs, gourmet sandwiches, roll ups, pulled pork sandwiches and fried chicken for a small gathering or for hundreds of guests. Pre-order your custom party feast and we'll have everything ready for you (hot or cold) to pick up on the day of your event.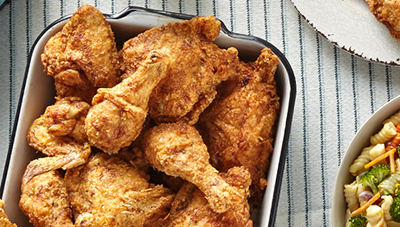 The Best Chicken in Town
Cub fried and grilled chicken is a hidden gem - a party favorite and a go-to for an easy lunch or dinner. Our fried chicken is fresh, never-frozen, coated with our secret breading recipe and cooked to crispy perfection. Our grilled chicken is made with a spicy and sweet combination of herbs and spices, delivering unique flavor with a fresh grilled taste. Cub chicken is available in 48, 100, 200, 300 and 500 pieces, or choose from our Party Pack options, which include sides and dinner rolls.
Busy Week? No Time to Cook?
Cub Deli Has Dinner Ready
When there's no time to cook but you're craving quality family time, Cub deli is here for you. Stop in on your way home and choose from our pasta salads, hot sides, and ready-to-eat fried or rotisserie chicken. Or order delivery to have dinner waiting on your doorstep when you get home.