Cub Garden Center
From flower baskets and foliage to potting soil and mulch, Cub
has everything you need to brighten your porch, patio, and home. In the spring, look for pop-up tents at select Cub locations for everything you need to make Minnesota winters a distant memory.

Do these three things now to ensure a happy, healthy yard next summer! 1. Deeply water your yard 2-3 days before dethatching or aerating your lawn. 2. If you're overseeding this fall, do it early enough to let the roots mature before winter. 3. Fertilize in early September to add nutrients to repair the soil after summer.
With cooler temps around the corner, here are a few steps you can take to protect your plants this winter. Avoid becoming rabbit food by building enclosures around thin-barked trees and shrubs. Install tree guards on young trees to ward off sun scald and frost cracks. Lastly, avoid pruning in September as new growth will be too delicate to survive the cold.
Apples can be picked and enjoyed before the first frost! Pay attention to apple variety, color, and texture to determine ripeness. Some varieties like the State Fair apple are ripe as early as mid-August while others like the Keepsake apple may not be ready until October. Ripe apples should be sweet, non-starchy, and mostly red.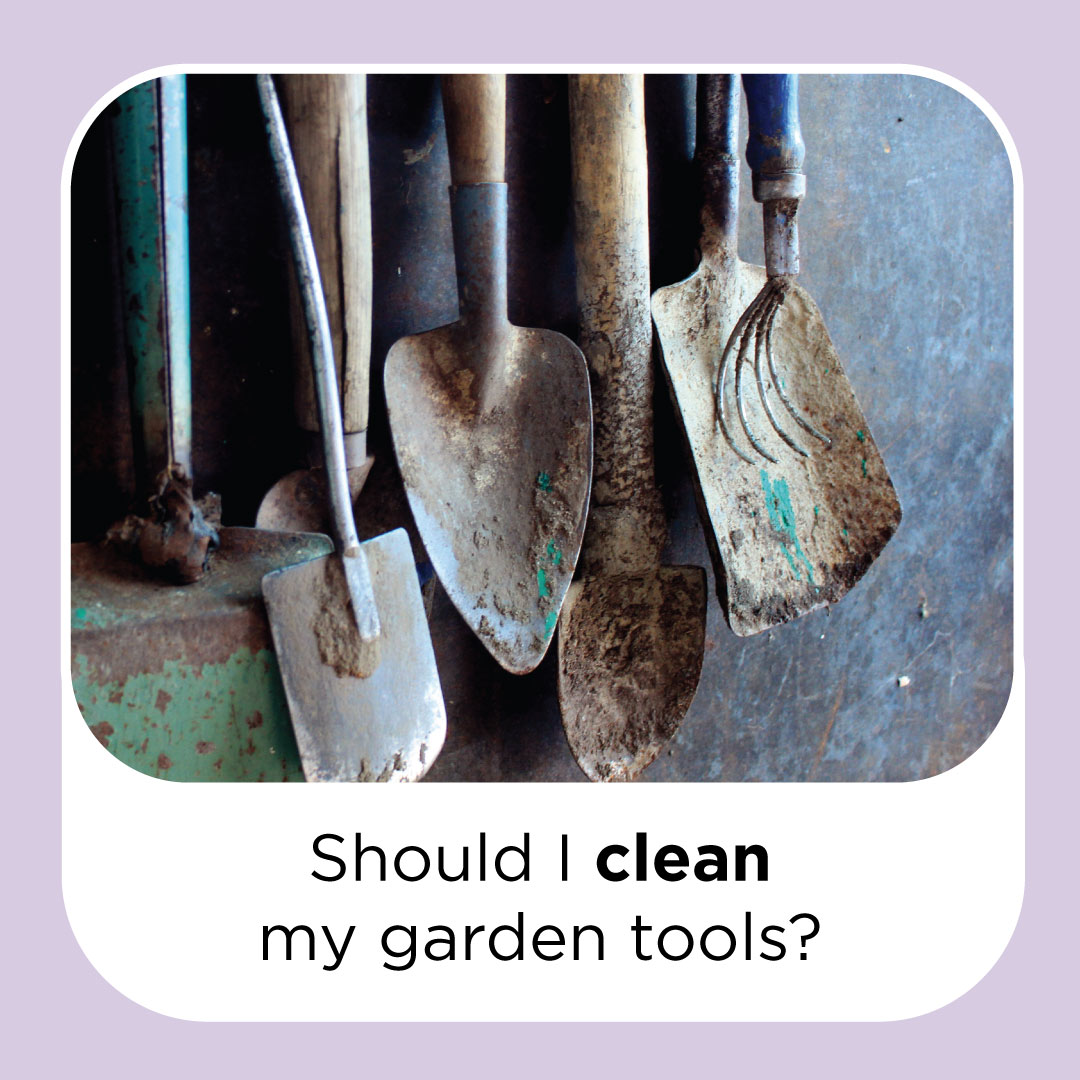 Gardening gets dirty, but that doesn't mean your tools need to stay that way! Dirty tools and pots can spread bacteria, fungi, and viruses. Remove dirt from your tools with a stiff brush and take a power washer to stubborn soil. Be sure to sanitize your tools with the appropriate solution for the material.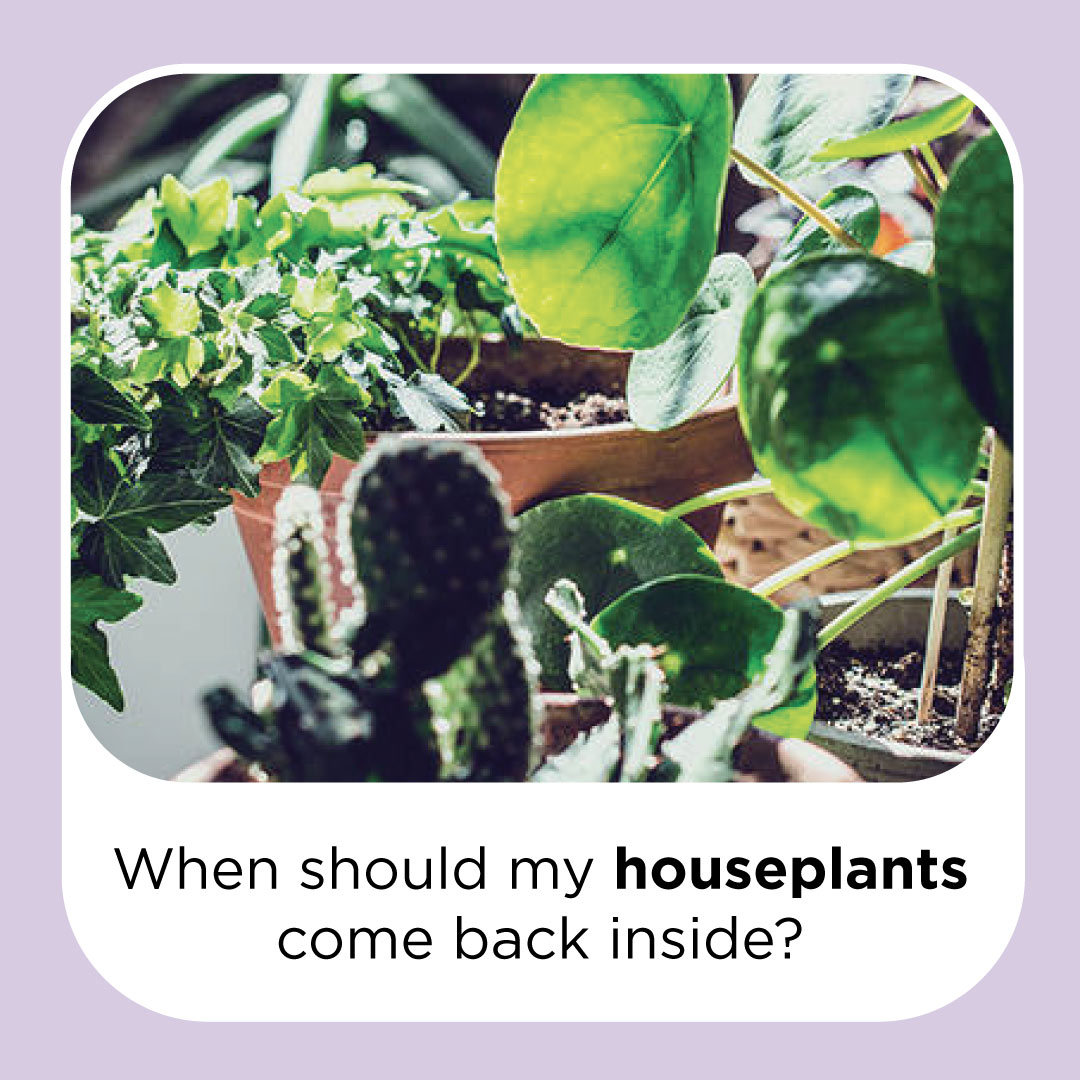 Though many houseplants thrive outside in the summer, Minnesota's dropping temperatures can cause damage if left outside too late into the season. When temperatures dip down to 40-50 degrees Fahrenheit, it's time to bring your plant babies back indoors. As their environment will change drastically, avoid shock by taking it slow. Gradually acclimate them to being indoors.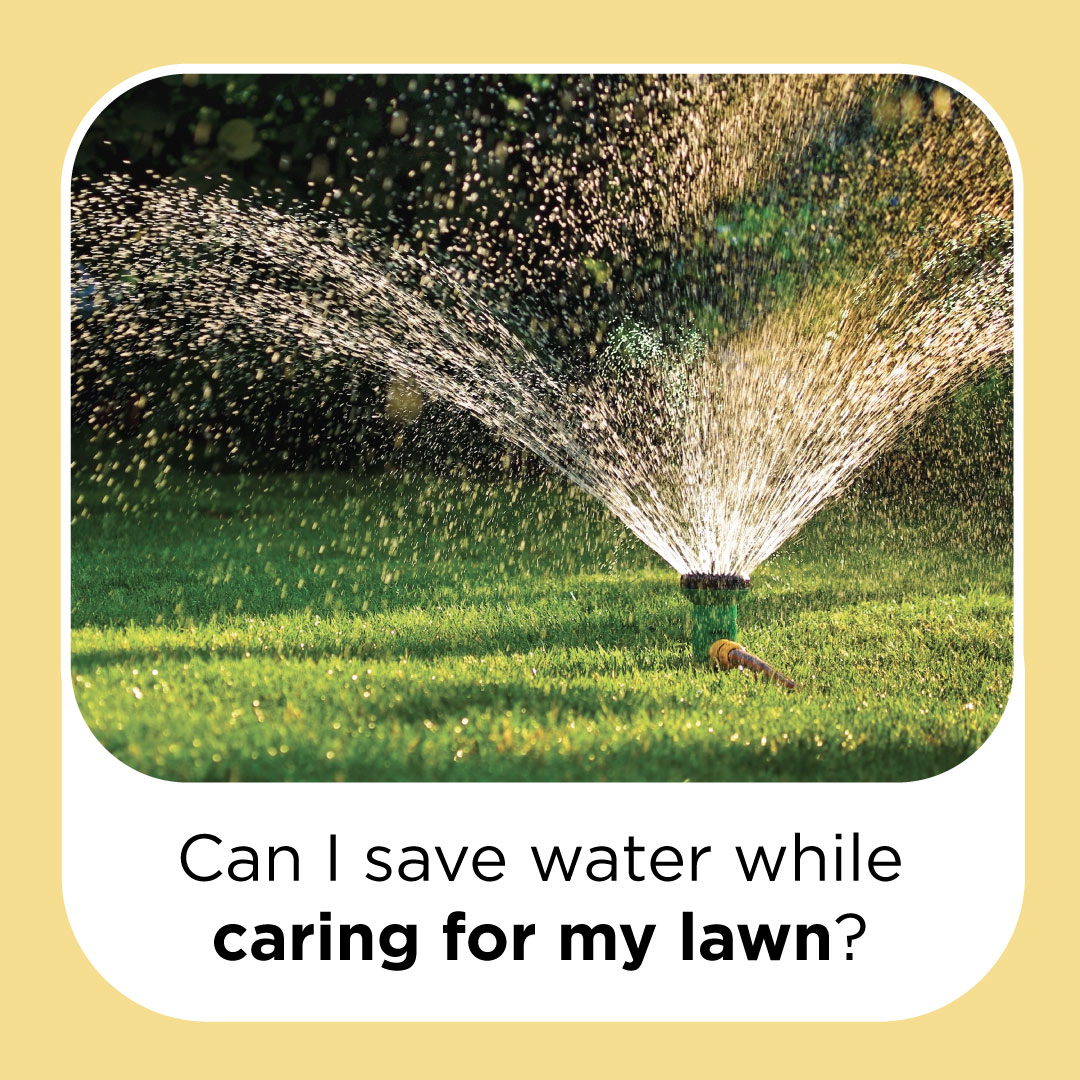 Managing the water bill and your yard's needs in the heat of summer is a balancing act! Conserve water and care for your lawn by planting drought tolerant grasses like Kentucky bluegrass and perennial ryegrass. Encourage deep rooting by watering as infrequently as your lawn can tolerate. Daytime sun and heat will evaporate water before your grass can drink it, so water in the mornings.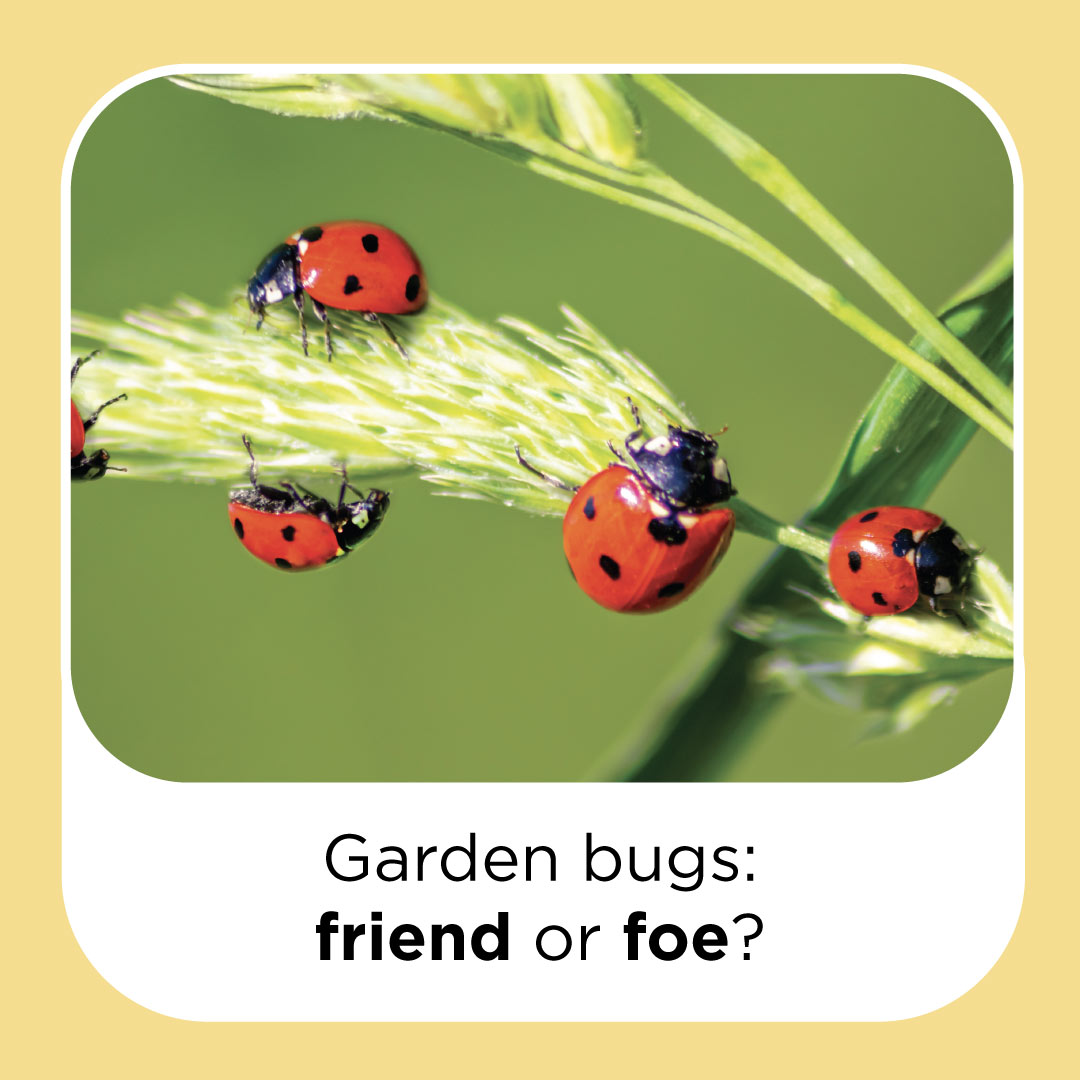 Of the 5 million species of insects in the world, only 1-3% of them are pests. Most bugs you see are passing through your garden without snacking on your plants. Determine if a bug is causing reason to worry by inspecting your plant. Is your produce being eaten? Leaves looking ragged? Use context clues to identify your pest and research holistic ways to deter them from your garden.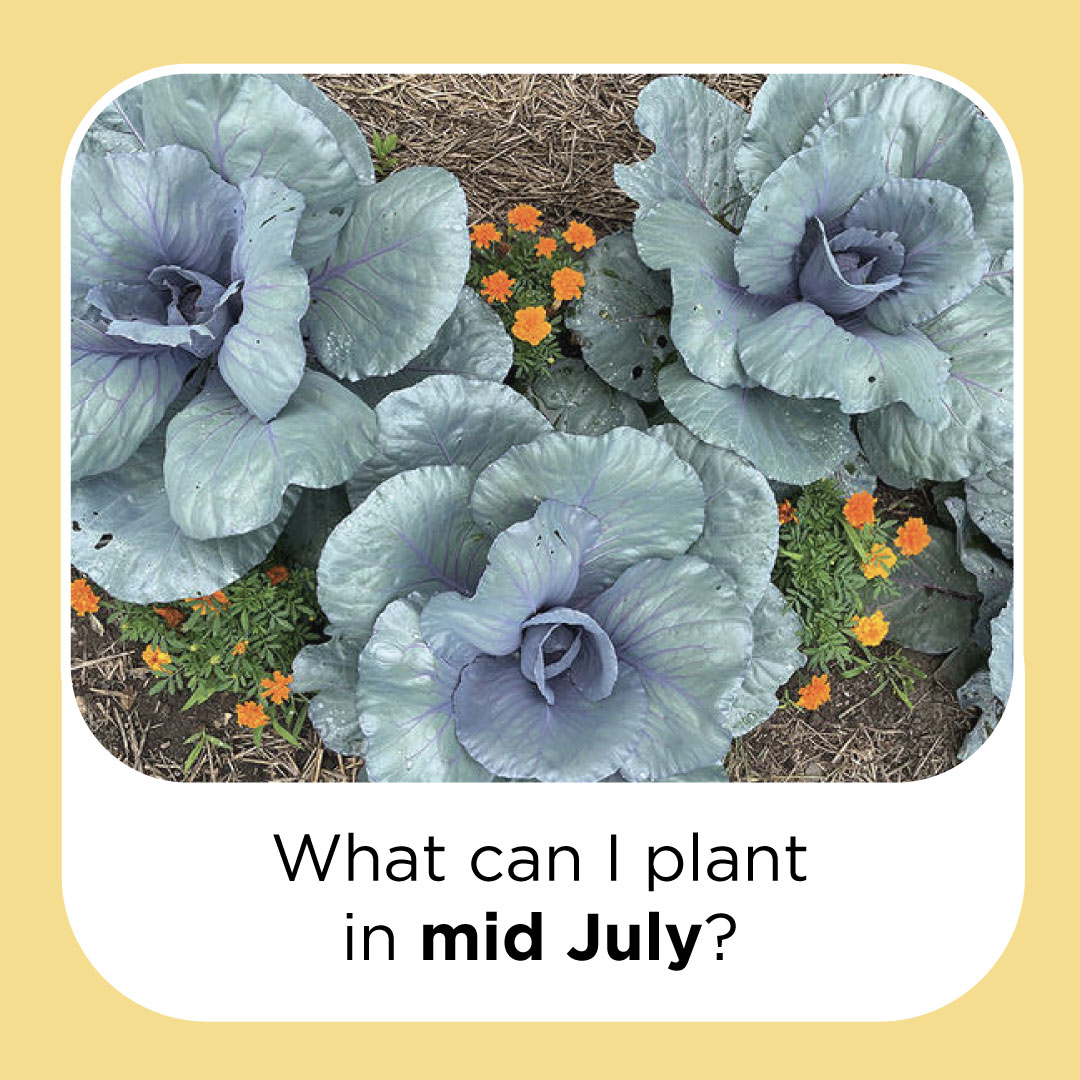 If you've got room to spare in your garden thanks to an early harvest, we collected a list of fast growing plants to fill in the gaps! Brassicas like broccoli and kale will be ready in fall thanks to hot summer days. Leafy greens like spinach and chard are a great choice for July planting—even if they don't fully mature, young leaves can be harvested before a freeze.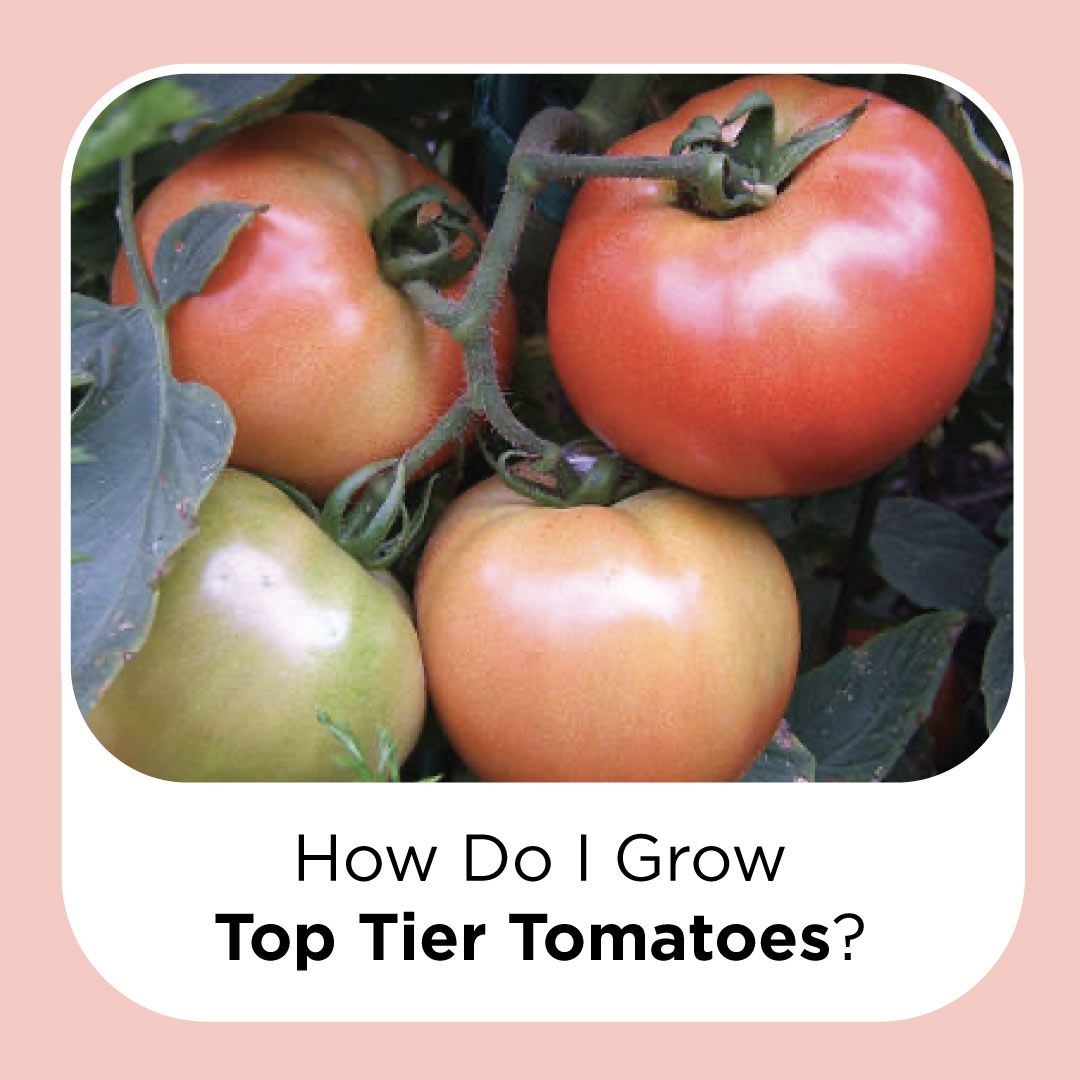 Minnesota's hot, long summer days are perfect for growing tomatoes. Increase your yield by planting tomatoes well suited for your yard and care habits. Is low maintenance care your style? Plant bush tomatoes. Do you envision a fairytale garden with a tomato trellis? Vining tomatoes will love you. All tomatoes thrive with consistent moisture levels — but avoid sprinkling water on leaves, blossoms, and tomatoes to avoid disease and rot!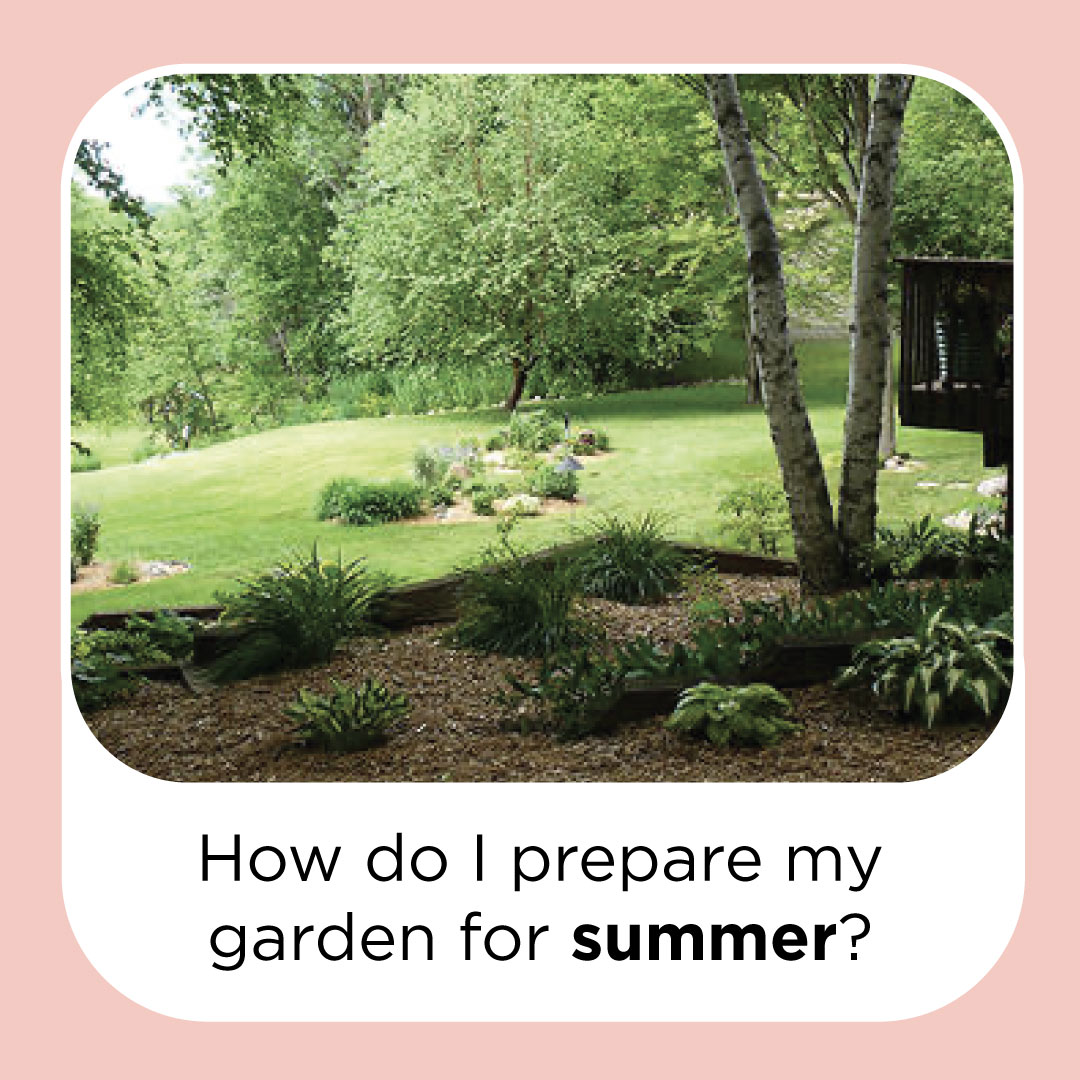 As the temperatures rise and the days grow longer, it's best practice to prep your garden with a few simple tasks. Water container plants daily, and water deep. Plant cover crops in large open spaces in gardens and garden beds to slow down erosion and nutrient loss. Slow down lawn maintenance until August to train your yard. Lastly, keep an eye out for pests! Don't let them set up shop for the season in your garden.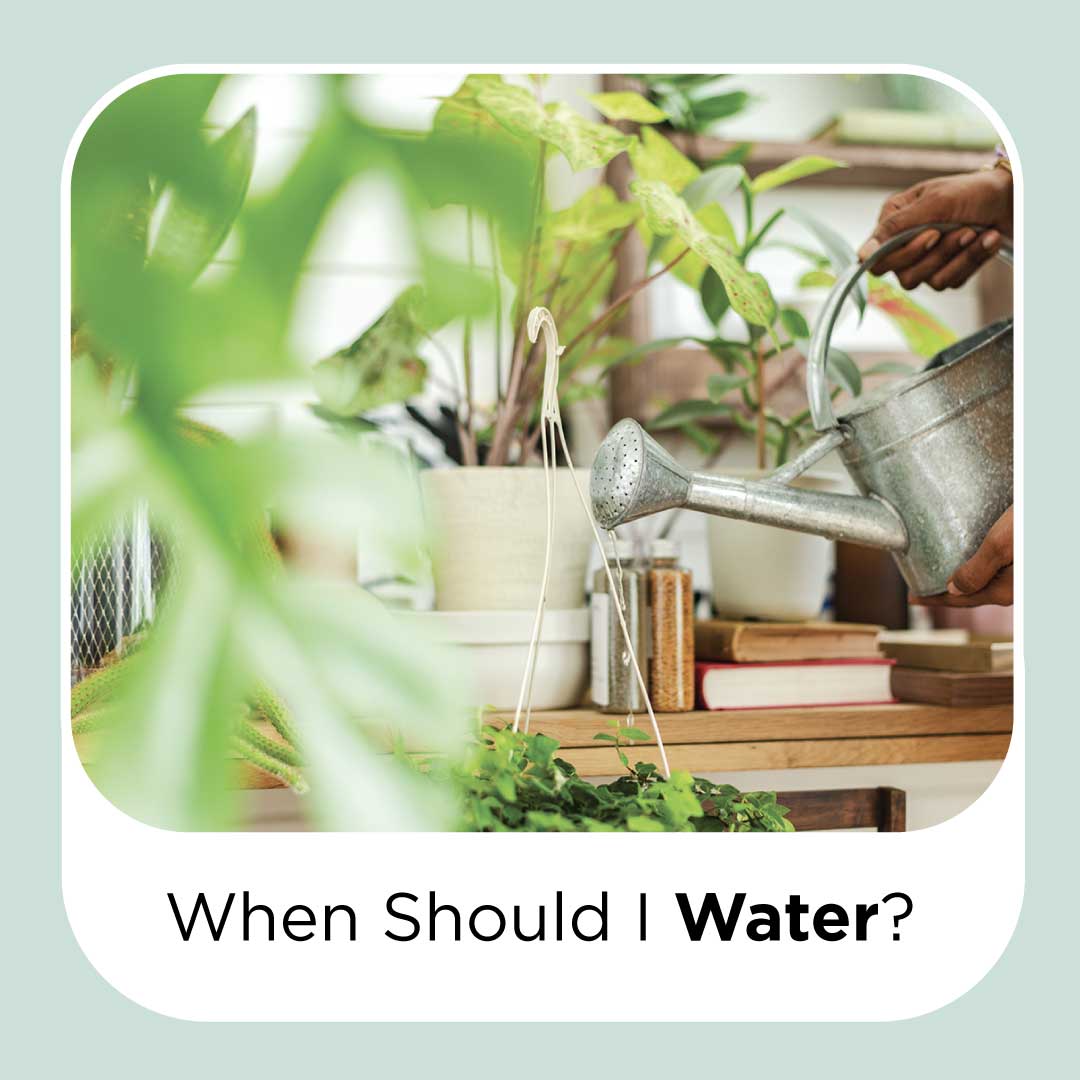 Get your hands dirty and check the soil around your plant to learn if they need water. You can skip the water if the soil is moist under the top inch of soil, but your plant is thirsty if the soil is dry two inches below the surface. Good to know: Plants grown in containers will dry out faster than ones planted in garden beds.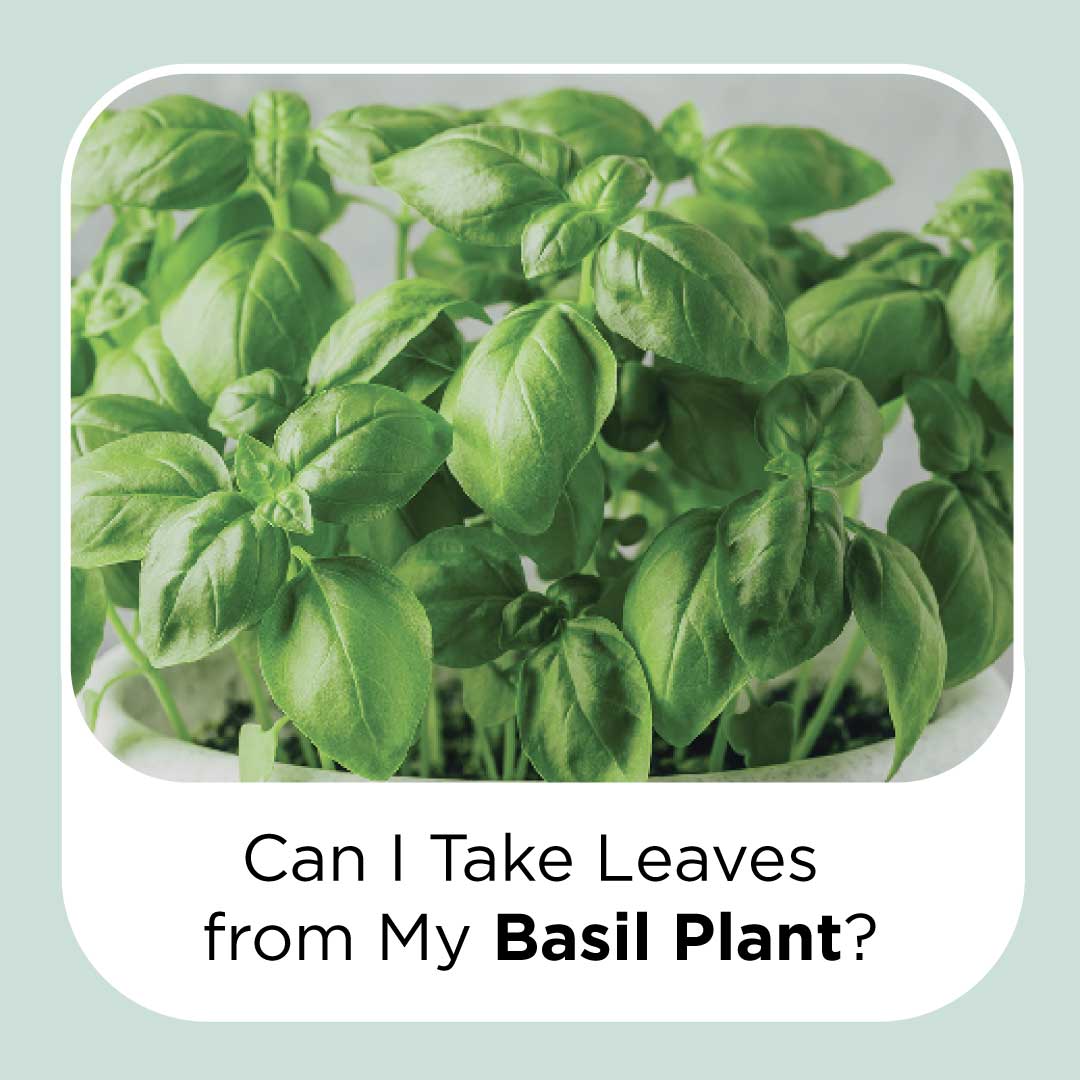 Basil plants are happiest when pruned regularly! Harvest fresh leaves for your kitchen at any time. Snip young leaves as needed or trim a whole stem (but cut above the bottom two leaves). Good to know: Basil plants should be pruned regularly to avoid becoming woody or flowering, which will yield bitter leaves.
Build Your Perfect Planter in 3 Steps
Summer is practically here, which means it's time to freshen up your outdoor spaces. Stop by the Garden Center to pick up everything you need, then follow these steps and you'll be on your way to building your perfect planter:
1. Pick a Vessel
When selecting a planter, it's important to consider what your plants will need from their new home. Plastic planters are non-breakable, easy to clean and low in cost, but might not be appropriate for plants that require a lot of drainage. Terracotta planters are ideal for plants that require a slower release of moisture, as the material likes to absorb water. Ceramic vessels are heavy, sturdy and generally have built-in drainage, making it a great choice for an outdoor planter.
2. Lay a Base
Now that you have your new home selected, it's time to start filling your planter. Choose a soil mix that fits with the needs of your plant. Most outdoor flowers benefit from peat moss-rich dirt. A layer of mulch or rocks at the bottom of your planter can help the soil to drain. When adding soil, keep the dirt loose enough that the new roots of your plants can easily grow and anchor themselves.
3. Add Your Plants
Now you're ready to add your flowers and greenery! When choosing plants, pick ones that enjoy the same level of sun; for example, avoid mixing sun-loving plants with those that love shade. You'll also want to pair plants that like the same level of moisture, too. Don't overcrowd your pot—leave your plants plenty of room to grow. Once your flowers are planted in the soil, add a final layer of mulch to help keep your soil damp and firmly in place.
---
Garden Center Growing Tips
New to gardening? Here are a few tips to make sure your new blooms and greenery will be their happiest:
Leave Room to Grow
While it may be tempting to stuff your planters to the brim with beautiful blooms, remember that you'll want your flowerpots to look pretty all summer long, so you'll need to give those flowers some room to breathe. If packed too tightly, your plants could get stressed and suffer. Space flowers a few inches apart when planting.
Annuals vs. Perennials
Depending on what you want out of your plants, you'll want to be mindful about what type of flower you choose. Annuals will only last for one growing season, while perennials will last much longer. Annuals will go through their whole lifecycle over the summer, blooming and dying all in one season. The perennial life cycle is much longer, 3-5 years, and can generally withstand all four seasons. While they are pricier than annuals, the payoff lasts much longer.
Sunlight Matters
Before your put your flowers in the dirt, make sure that you're pairing plants that enjoy the same level of sunshine. Some plants thrive in full sun, while others prefer shade. Pay attention to what level of sunshine you place your planter in and give your plants a leg-up by putting them in their favorite sunny spot.
Garden Center Locations & Hours - CLOSED FOR THE SEASON
Visit us in the spring of 2024!
Cub - Apple Valley
15350 Cedar Ave, Apple Valley, MN 55124
952-432-6300


Cub - Lakeville West
17756 Kenwood Trail, Lakeville, MN 55044
952-898-4500


Cub - Arden Hills
3717 Lexington Ave N, Arden Hills, MN 55126
651-486-7933


Cub - Mankato West
1200 S Riverfront Dr, Mankato, MN 56001
507-387-4163


Cub - Blaine North
12595 Central Ave N, Blaine, MN 55434
763-755-9802


Cub - Maple Grove
8150 Wedgewood Ln N, Maple Grove, MN 55369
763-494-8364


Cub - Blaine South
585 Northtown Dr NE, Blaine, MN 55434
763-780-4323


Cub - Maplewood East
2390 White Bear Ave, Maplewood, MN 55109
651-773-8558


Cub - Bloomington
10520 France Ave S, Bloomington, MN
952-884-8288


Cub - Maplewood West
100 County Rd B W, Maplewood, MN
651-489-8217


Cub - Coon Rapids South
2050 Northdale Blvd NW, Coon Rapids, MN 55433
763-767-9330


Cub - Oakdale
7191 10th St N, Oakdale, MN 55128
651-739-3550


Cub - Cottage Grove
8690 E Point Douglas Rd, Cottage Grove, MN 55016
651-459-7106


Cub - Plymouth
3550 Vicksburg Ln N, Plymouth, MN 55447
763-559-2110


Cub - Crystal
5301 36th Ave N, Crystal, MN 55422
763-287-9996


Cub - Plymouth Rockford Road
4445 Nathan Ln N, Plymouth, MN
763-553-0611


Cub - Duluth
615 W Central Entrance, Duluth, MN 55811
218-727-0272


Cub - Rosemount
3784 150th St W, Rosemount, MN 55068
651-423-0300
Cub - Eagan West
1940 Cliff Lake Rd, Eagan, MN 55122
651-454-4606


Cub - Savage
14075 State Hwy 13, Savage, MN
952-447-1555
Cub - Forest Lake
2013 W Broadway Ave, Forest Lake, MN 55025
651-982-4511


Cub - Silver Lake
3930 Silver Lake Rd NE, St. Anthony, MN 55421
612-789-8689
Cub - Hastings
1729 Market Blvd, Hastings, MN 55033
651-438-1481
Cub - Stillwater
1801 Market Dr, Stillwater, MN 55082
651-430-2350

Cub - Lakeville North
7435 179th St W, Lakeville, MN 55044
952-891-1700

Cub - White Bear Lake
1920 Buerkle Rd, White Bear Lake, MN 55110
651-777-7899

Cub - Lakeville South
20250 Heritage Dr, Lakeville, MN 55044
952-469-8400

The Cub locations listed above have dedicated Garden Centers in the parking lot that are restocked daily with everything you need for gardens of all sizes! All of our remaining stores have plenty of flowers, mulch and other gardening favorites in stock and located near the front entrance.
Shop Timberline Mulch
Minnesota made mulch in-stores or online
Mulch does more than just improve the look of your garden — it's a multi-tasking miracle for busy gardeners. Mulch acts as a protective barrier against the forces of nature that make it hard for plants to thrive. Mulching stabilizes soil temperatures against cold and heat, keeping your plant's roots happy. When you mulch you also ward off weeds and promote moisture retention.