Search results
Hershey's Simply 5 Syrup, Genuine Chocolate Flavor, 21.8 Ounce, $4.99
HERSHEY'S Simply 5 Chocolate Syrup gives you delicious genuine chocolate flavor without all the complicated ingredients, making it the simplest decision you'll make all day. Genuine chocolate flavor packed in the classic bottle of HERSHEY'S Syrup can do no wrong. Want to add it to your milk, hot cocoa and coffee, or drizzle it over your brownies and cakes, or use it to make chocolate floats and sundaes? No matter what you're making or who is at your gathering, pop open the lid, then squeeze, swirl, dot or drizzle the syrup onto some of your favorite drinks and desserts. Squeeze the syrup onto your ice cream sundaes as a tasty topping or stir it into a cold glass of milk chocolaty milk mustaches, anyone? Do you need a little sweetness in your midday coffee to make a mocha, some extra goodness in your hot cocoa or a chocolate drizzle over your dessert? Enjoy the sweet, savory and delicious taste of chocolate syrup on everything from cakes to cookies. Put all your creative vibes down on the counter and start designing edible crafts, too. HERSHEY'S Chocolate Syrup makes great holiday gifts for the bakers in your family or can help one-up your baking recipes. Once you're finished, place the bottle in the refrigerator to keep the syrup fresh.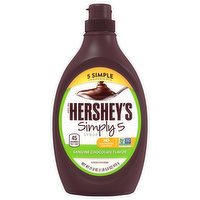 Hershey's Simply 5 Syrup, Genuine Chocolate Flavor, 21.8 Ounce
Open product description
Can't find what you're looking for?