Pet
Kennels, Beds, & Pillows (2)
Search results
Aspen Pet Pet Porter, for Training & Travel, 1 Each, $34.99
Up to 10 lbs./4.5 kg. Chihuahuas, Yorkshire terriers, cats or similar. Quick & easy assembly - 360 degrees ventilation. Meets most air travel requirements. Before traveling with your pet, please consult your airline for their individual pet travel requirements. Pets should be able to stand up, sit down and turn around comfortably. Eco (made with pre-consumer recycled plastic content).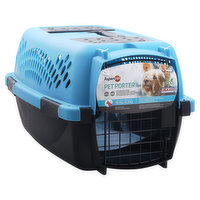 Aspen Pet Pet Porter, for Training & Travel, 1 Each
Open Product Description
Can't find what you're looking for?