Search results
Gotham Steel Grill, Low-Fat, Electric, 1 Each, $29.99
Less fat! Less grease! Less calories! Easy to clean. Non stick grill plates. PTFE/PFOA/PFOS free. As seen on TV. Non-stick titanium copper & ceramic stronger than ever! Grills food fast! Grills All Your Favorite Food: burgers; steaks; sandwiches; vegetables; seafood & more! No oil or butter needed! Drip tray included inside. Fat & grease collect in drip tray as food cooks! Non-Stick! Ti-Cerama Copper Coating. Terms and conditions/agreement to arbitrate apply. See details inside. ETL Listed-Intertek. Made in China.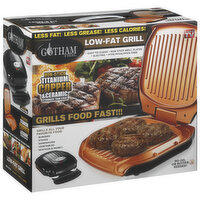 Gotham Steel Grill, Low-Fat, Electric, 1 Each
Open Product Description
Can't find what you're looking for?