Haagen-Dazs Ice Cream, Chocolate, 14 Fluid ounce, $6.29
No rBST. Milk and cream from cows not treated with the growth hormone rBST (No significant difference has been shown between milk from rBST- treated and non-rBST treated cows). A flavor that remains unchanged from the beginning, using only five simple ingredients. If you are looking for the ultimate chocolate ice cream, this is it. That's Dazs.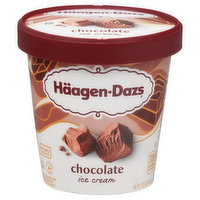 Save $5 off your online order when you buy $30 of participating Nestle Drumsticks Novelties, Outshine Fruit Bars, Edy's or Haagen Dazs Ice Cream.
Sponsored
Haagen-Dazs Ice Cream, Chocolate, 14 Fluid ounce
Open product description