Our Fresh Produce Promise
Love it or we'll replace it AND refund your money!
When we say we have the best produce period, we mean it. And we back it up with our promise. From taste and size to freshness, we work hard to ensure our fruits, vegetables and herbs are the highest quality. We source our produce from the best growers in the industry, including local growers. We triple-check every crate and carton for quality and freshness – in the field, at the warehouse and once it reaches the store. And we minimize the time it takes to travel from the farm to our store, so you bring the freshest produce home to your kitchen.
Our Avocados & Limes Last 2x Longer!
It's thanks to Apeel!
Apeel is a coating made from the peels, seeds, and pulp of fruits and vegetables that creates a protective extra peel that seals moisture in and keeps oxygen out. That means produce stays fresh, nutritious, and delicious twice as long. It also means less waste, from grower to retailer to home. Good for you and for the planet.
Adopt an Acre
Cub is proud to partner with Honeybear
Cub and Honeybear Brands have partnered to invest in local growers. With the Adopt an Acre program, pollinator habitats have been created to support orchards and bees all across Minnesota, the same orchards that provide the very apples we sell in our stores.
Order Produce Online?
Yes, you can, with Cub!
Some customers hesitate to order fresh fruits and vegetables for pickup and delivery because they like their produce a certain way. But your Cub personal shopper, who is a grocer not a driver, makes it possible. They'll stay in touch while they shop your order so you can tell them you like green bananas or ripe ones, or something in between.
Quick & Easy
Let us do the washing and chopping for you.
Incorporate more fruits and vegetables into your diet with Cub's Quick & Easy produce. We have a large selection of pre-washed, pre-cut fruits and vegetables. From Quick & Easy fresh vegetables, which come in a microwave steam bag, to veggie trays and fruit salad bowls. We make eating more greens easier.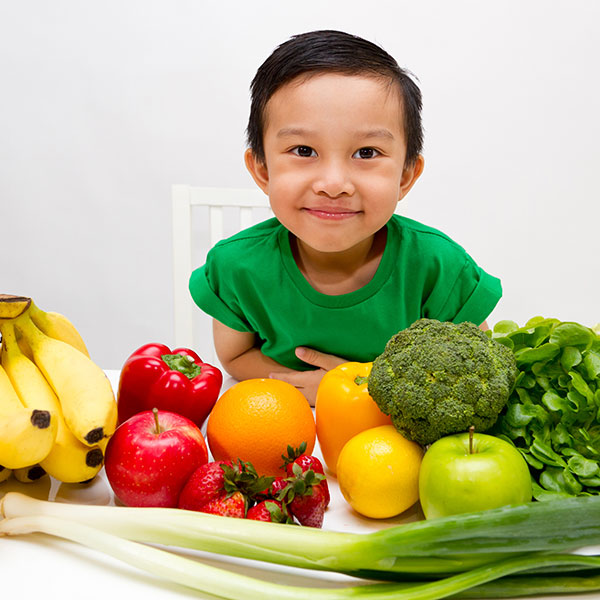 Free Fruit for Kids
Look for the fruit bin in the produce section.
We know kids can get hungry and fidgety when they shop with you. So Cub offers children 12 and younger a complimentary piece of fruit when you shop in-store. It keeps them busy and it's nutritious, too. Look for the free fruit bin in the produce section of your local Cub. See store for details.
Say Hello to our Local Farmers
Did you know that our stores are stocked with produce that's grown just miles away from your Cub store? We love supporting our community, and because of this, we work with Minnesota farmers to bring you the freshest, most flavorful produce direct from their fields to your cart.