Bubbl'r Twisted Elix'r Sparkling Water, Antioxidant, Raspberry/Lime/Citrus, 6 Each, $6.99
No artificial sweeteners. The benefits Bubbl'th over. Sure, the sparkling personality will make you fall in love at first sip, but then the real magic happens. Fruity effervescence and awesome antioxidants swoop in to balance the body and focus the mind, right before a boost of natural caffeine shows up to save your day. There's a benefit in every bubble and a happier you just waiting to rise up. Immune support. Low glycemic. Color provided by nature. From the makers of Klarbrum. Please recycle.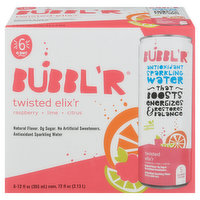 Save $5.00 off your online order when you buy $25 participating Pepsi, Frito or Gatorade Products.
Sponsored
Bubbl'r Twisted Elix'r Sparkling Water, Antioxidant, Raspberry/Lime/Citrus, 6 Each
Open product description