Fall Flavors and New Recipes at Cub!

Hello to cooler temperatures, changing colors, busy schedules, and football! Cub is here to help you fuel the season, your way, with ideas for tackling the back-to-school rush, planning easy but cozy family dinners and throwing a football watch party like you're a professional party planner.


One way we do fall at Cub is to is don head-to-toe maroon and gold and support our hometown team. Our long-standing partnership with the Minnesota Gophers is a source of great pride. We've donated more than a million dollars to support the University of Minnesota Masonic Children's Hospital — dollars that stay in our communities and make a real difference. If you ask us, there isn't a more winning duo than your hometown team and your hometown grocer!
The Starting Lineup
Whether you're tailgating, watching from home or headed to a friend's, we've got seriously satisfying options worth of their own SKI-U-MAH. Go Gophers!
Your Fall Meal MVP
This brilliant meal prep idea will save tons of time on busy school nights: Cook a big batch of pork low and slow with Coca-Cola and a few spices, then use some now and freeze the rest for later. Your future self with thank you.
Coca-Cola Pulled Pork
An ordinary pulled pork recipe is taken to the next level.
After 6 hours in the slow cooker and a few cups of homemade Coca-Cola BBQ sauce mixed in, this pulled pork has a sweet, savory flavor that's hard to resist and is set to transform any dish.
Game Day Bites
Whether you're tailgating, watching from home or headed to a friend's, we've got seriously satisfying options worthy of their own Ski-U-Mah cheer. Go Gophers!
The Have-On-Hand Game Plan
We're revealing our fridge, freezer, and pantry play-by-play for winning mealtime. Because the best offense is good defense—true in sports and dinner.
Pantry Plays
Think of your pantry as your powerhouse player.
There are boxes of cereal and snacks (so many snacks!), of course, and then there are the shelf-stable meals like canned soups and ramen, plus shortcuts like broth and canned tomatoes that are there to save you any night of the week.
Fridge Plays
Show of hands, whose fridge is 50% full of condiments?
There are reasons for that: making sauces, dressings and marinades is hugely time consuming, plus they just make eating more funl The trick is keeping the right ones on hand so they're multi-purpose and worth the space.
Freezer Plays
There's no greater insurance against busy nights, lazy nights, and average Tuesdays than a well-stocked freezer.
From family meals ready as fast as you can preheat your oven, to gloriously easy microwave-and-eat options for one, these staples will have your back every time.

September is Family Meals Month
Sharing meals with the people you love nourishes the spirit, brain and health of everyone at the table. Plus, consistent family meals are linked to higher grades and boosted self-esteem in kids.
Join us in celebrating
National Family Meals Month
by pledging to eat one meal per week at home as a family.
The meals don't need to be complex—we promise! The most important thing is sitting down together. We've got seriously easy ideas below, plus Cub fried chicken is always hot and ready when you need it. Let's eat!
Meals In Minutes
Short on time but need to pull together a meal? These are two of our fail-safe recipes for a filling dinner that's ready to serve in under half an hour.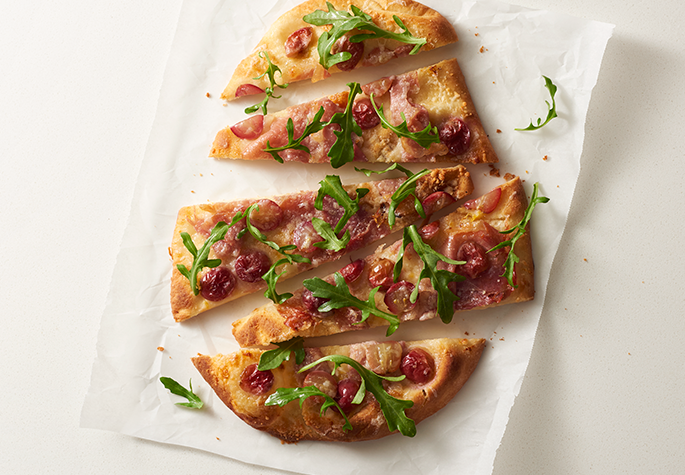 Prosciutto, Red Grape & Pecorino Flatbread
The salty-sweet combo of prosciutto, Pecorino Romano cheese, and red grapes makes for a tasty flatbread that comes together in just 15 minutes.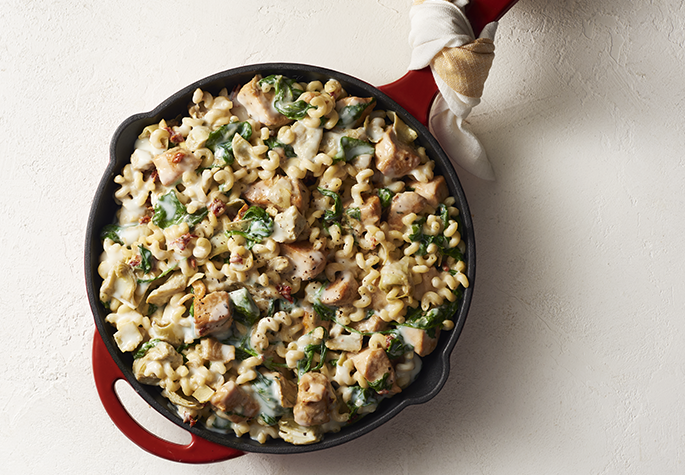 Spinach Artichoke Chicken & Pasta
Calling all spinach artichoke dip lovers; this one is for you. A handful of hard-working kitchen staples go a long way in pulling together a super-fast and supremely flavorful meal that doesn't skimp on serving size.
Eat Out At Home
All it takes is a walk through the aisles of Cub and you'll quickly realize the phrase "Stay in, eat out" isn't an oxymoron. More and more restaurants are making their famous fare available to make and enjoy at home. With all of these restaurant favorites available at Cub, it means there's a whole new world of possible answers to the question "What's for dinner?"
Build a Better Salad
Use these techniques to elevate your usual bowl of greens.
Tip 1: Make your own dressing
In life—and in salad dressings—we subscribe to the motto work smarter not harder.
Add fresh ingredients to the remainder of your Grey Poupon Mustard jar, shake, and voilà! An all-purpose salad dressing that tastes so much more complex than it was to make.
Tip 2: Toast Your Nuts

Heat oven to 350° spread nuts on a baking sheet and roast 5-10 minutes, or until fragrant and a shade darker.

Tip 2: Make Lemon Breadcrumbs

Heat 1⁄4 cup olive oil in a medium skillet over medium-high heat. Add 1 clove garlic and cook until golden, about 2 minutes. Add 1⁄2 cup fresh breadcrumbs and cook, stirring constantly, until golden brown, about 4 minutes. Drain on paper towels and cool. Discard garlic. Transfer to a bowl, add 1 teaspoon lemon zest, a pinch of salt and toss to combine.
Tip 4: Get Cheesy

Use a vegetable peeler to shave long, thin ribbons off large blocks of cheese. Nothing makes a salad feel fancier faster than that.
Soup of the Season
Get your stock pot and ladle ready for these 3 soup-for-supper recipes that offer maximum comfort for minimal effort.
Busy Week? No Time to Cook?
Cub Deli Has Dinner Ready
When there's no time to cook but you're craving quality family time, Cub deli is here for you. Stop in on your way home and choose from our pasta salads, hot sides, and ready-to-eat fried or rotisserie chicken. Or order delivery to have dinner waiting on your doorstep when you get home.
Sweet Tooth Satisfied
Game day victories, aced tests, Halloween, birthdays (Did you know: 9 out of the 10 most popular birthdays fall in September): there's no shortage of things to celebrate this season. Make these treats at home with minimal effort for maximum enjoyment.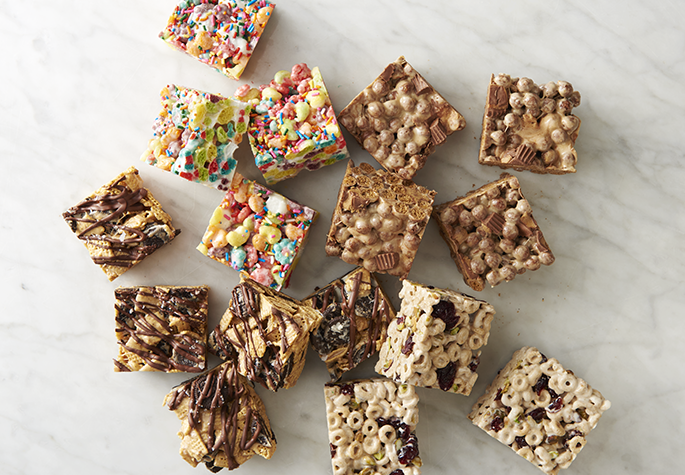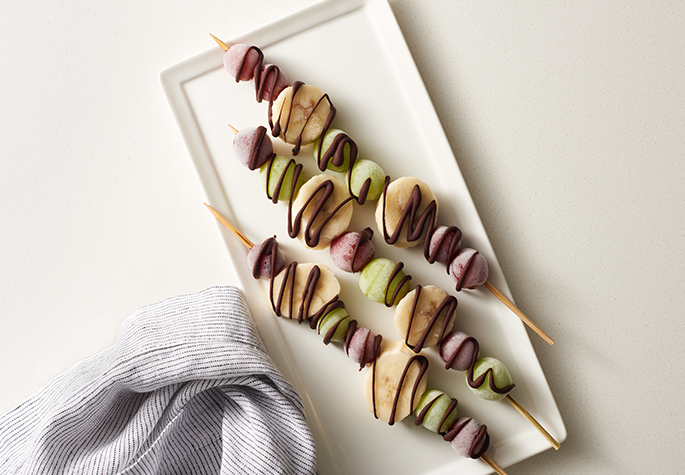 Frozen Grape & Banana Skewers with Chocolate Drizzle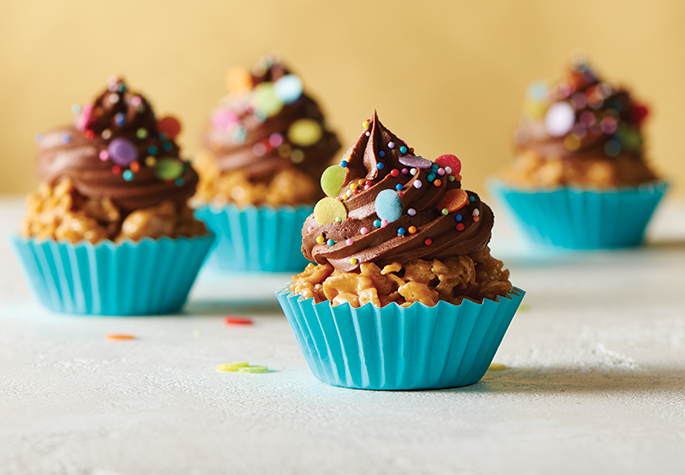 Frosted Flake Cupcakes
This no-bake cupcake hack keeps your ingredient list blessedly short (just five items!) and your total time commitment to a minimum.
Double Duty Breakfasts
Mornings are, well, mornings. So why not make them twice as nice with easy recipes you can pull together for a Sunday family brunch and then enjoy all week as-is, or with a simple redo.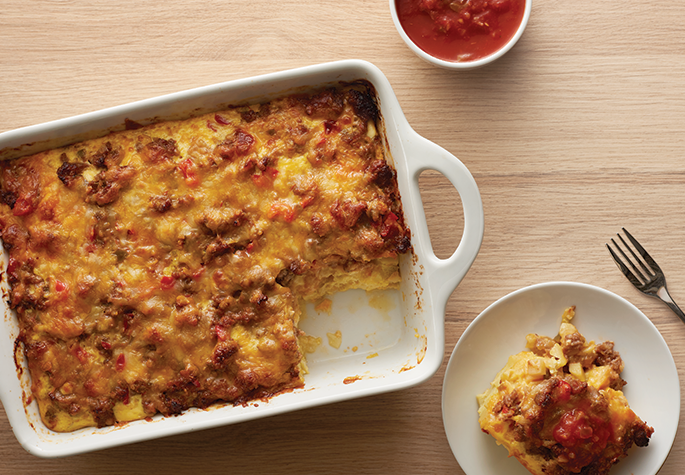 Southwest Breakfast Casserole
The Remix: Breakfast Sandwich Add a piece of casserole and slice of your favorite cheese to your Crystal Farm English Muffin for an ideal to-go anytime breakfast.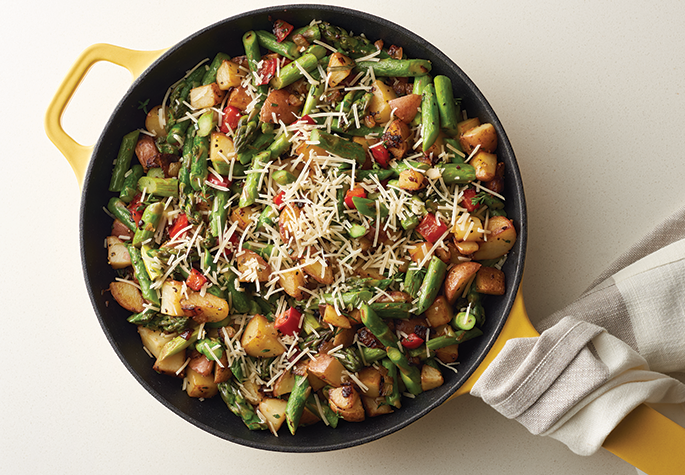 Potato & Asparagus Hash
The Remix: Veggie Hash Cheese Wrap Give this veggie-packed hash new life with a Crystal Farms Cheese Wrap (your choice of Marble Jack, Mozzarella, and Cheddar Blend).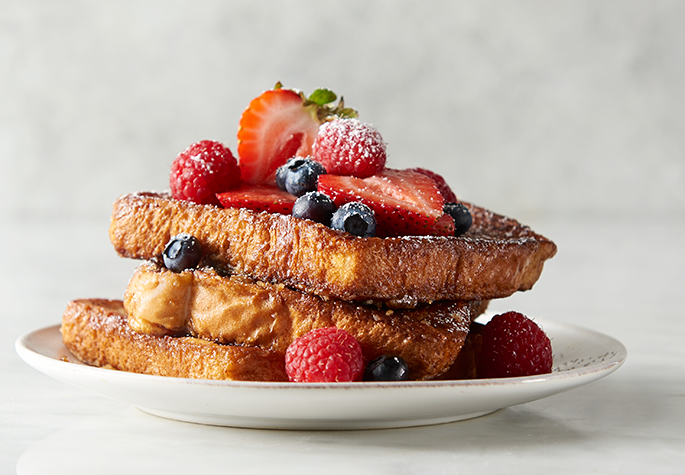 Caramelized Spiced French Toast
The Remix: Berry French Toast Parfait Cut the French toast into bite-size pieces and layer up yogurt, fruit, and the French toast in single-serve containers for next-day parfaits.