Cub Pharmacy provides a wide variety of affordable vaccines. Walk-ins are welcome! Immunizations are critical for protecting both you and those around you. Our pharmacists are skilled in administering vaccines to adults and children.
Cub Pharmacy Offers the Following Vaccines:
Influenza

Pneumonia

Shingles

Tetanus

Whooping Cough

Hepatitis A

Hepatitis B

Meningococcal

Measles

Mumps

Rubella

Human Papillomavirus (HPV)

COVID-19
We've Updated Our Immunization Safety Protocols
You and your family's health are our top priorities. We have implemented several cleaning and disinfecting measures to combat the spread of COVID-19 so you can have peace of mind when you visit our clinics.
Enhanced Cleaning and Disinfecting: All patient-facing surfaces are routinely cleaned throughout the day. In between immunizations, every patient will receive a clean pen when filling out consent forms.


Contactless Prescriptions: Please notify your pharmacist if you are not feeling well or you are uncomfortable with an in-person pick-up. We will fill your prescription and mail it to you at no extra charge. Learn more by calling your local Cub Pharmacy. Some restrictions apply.


Printable Immunization Forms: Print your immunization consent forms ahead of your visit. Fill them out in the safety and comfort of your home to save time and limit unnecessary contact with others. Click here to download.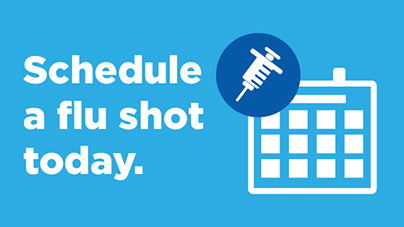 Free Flu Shots at Cub
Fight the flu – defend your crew! Get your flu vaccine today. Walk-ins are welcome at all of our locations or schedule an appointment online, although NOT required. Bring your insurance card. Flu vaccine's are free with most insurance plans. If your family or friends (age 5+) would like to receive their flu vaccine along with you, bring them with you. If you schedule an appointment, you only need to schedule ONE for all of you. The Centers for Disease Control and Prevention (CDC) recommend getting a flu shot every year as the first step in protecting yourself against the flu.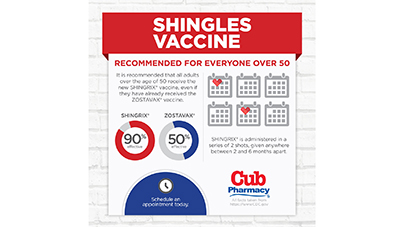 Get Your Shingles Vaccine
If you are over 50 years old, it is recommended that you get the new SHINGRIX® vaccine to prevent an outbreak of shingles—even if you've already gotten the ZOSTAVAX® vaccine. Get your SHINGRIX® shot at Cub today. Walk-ins are welcome at all of our locations or schedule an appointment online, although NOT required. Bring your insurance card.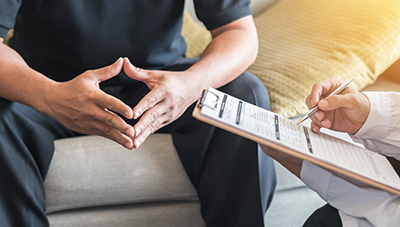 Health Screenings
Routine health screenings play an important role in the prevention and detection of several health conditions. Many of our pharmacies offer convenient and affordable screenings on a walk-in basis. See your pharmacist to have your blood sugar, hemoglobin A1c, or cholesterol checked today. Please contact your nearest Cub Pharmacy for more information.