COVID-19 Services at Cub Pharmacy

COVID-19 Vaccines & Boosters
To receive a vaccination or booster, schedule an appointment below. All patients will be required to fill out a COVID-19 vaccination
consent form
prior to vaccination. You can print and fill out this form before you arrive or a form will be provided to you at the start of your appointment.
Scheduling an appointment is recommended, although walk-in appointments are available on a limited basis.
Schedule an Updated Bivalent COVID-19 Booster Vaccine
As of April 2023, the CDC recommends all people receive the updated bivalent Moderna or Pfizer COVID vaccine. Additionally, individuals 65 years of age and older, and those with immunocompromising conditions are recommended to receive a second bivalent COVID vaccine.
Schedule Appointment »


Frequently Asked Questions
Q: Who should get the COVID-19 vaccine?
A: Our pharmacies are able to vaccinate all eligible patients 5 years of age or older. To learn more about eligibility please visit:
https://www.cdc.gov/coronavirus/2019-ncov/vaccines/stay-up-to-date.html
Q: Where can I find more information about COVID-19 vaccines, boosters and treatments?
A: Visit
https://www.cdc.gov/cornonavirus/2019-ncov/index.html.
COVID-19 Antiviral Treatments
Paxlovid Available at Cub Pharmacy
Paxlovid is authorized to treat COVID-19 in adults 12 years of age and older following a positive COVID-19 test. A prescription for Paxlovid is required from your medical provider to receive the medication. There is no out-of-pocket cost for patients.
For more information about Paxlovid, please see the
Antiviral Fact Sheet for Patients
from the CDC.
All Cub Pharmacy locations have limited quantities of the COVID-19 antiviral, Paxlovid. If you have been prescribed Paxlovid, please call ahead to speak with the pharmacist to coordinate the pickup of your medication.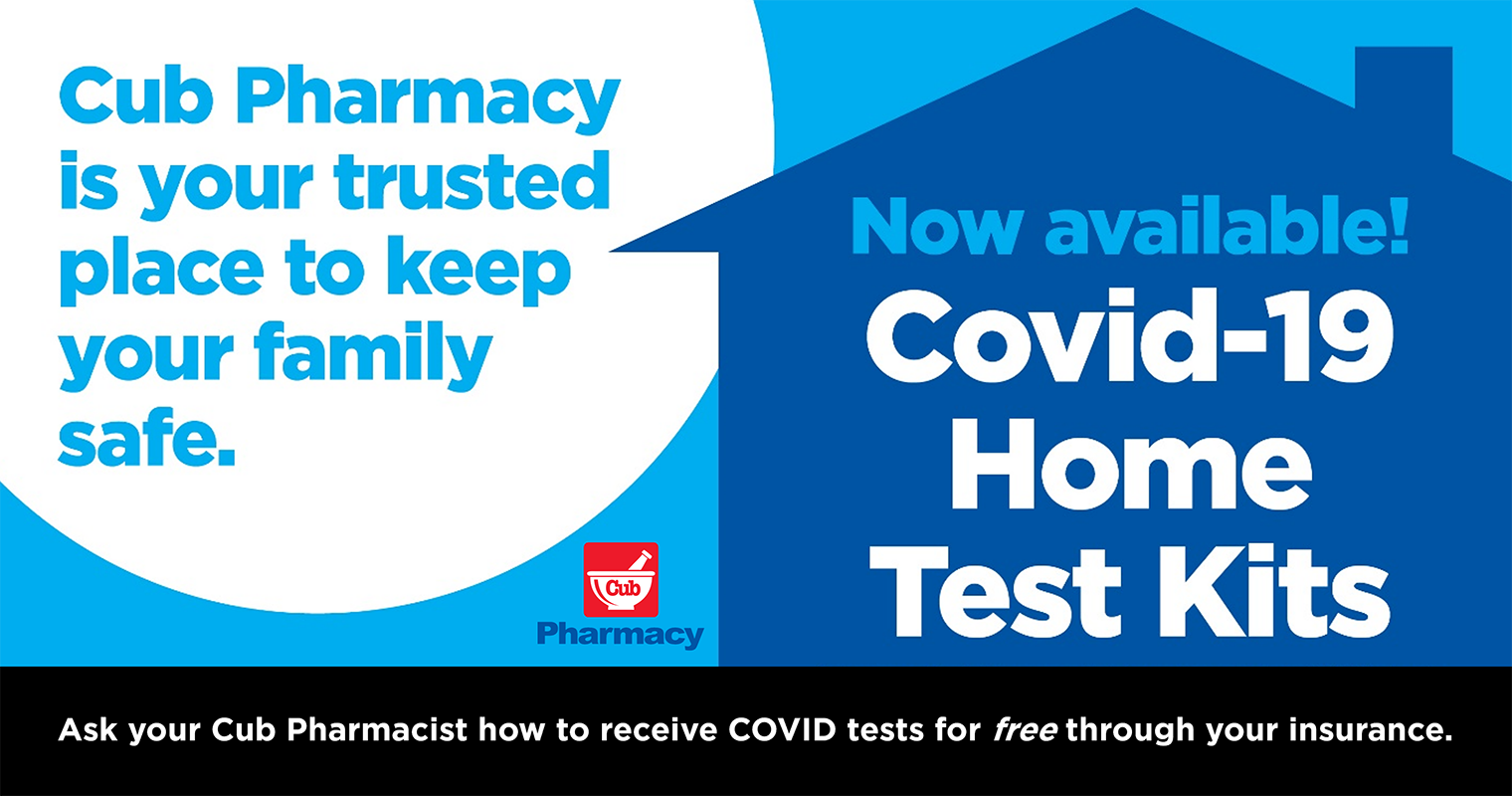 Keep your family safe and healthy with help from Cub! FDA-approved at-home COVID tests are available at all Cub pharmacies. Talk to your pharmacist today to find out how to get them at no cost through your insurance. Test kits are available three convenient ways:
At no cost through your insurance by contacting your Cub Pharmacist. Locate your nearest Cub Pharmacy.

Available for purchase in-store for $10.99.

Available for pickup and delivery when you order online. Add to cart >>