Planning an A+ grad bash? Cub makes marking the occasion easy with custom bakes, crowd-sized platters, unique menu options and more. From dip recipes that pair perfectly with our fried chicken to everything which-way you can say "2022," we've got the details on how to make your graduation party the most fun on the block.
'22 Never Tasted So Good
If you're looking for a fun, unique way to make your graduation spread shine, we've got more than one way to say, "Yay 2022!" Whether with a sub or something sweeter, our bakery is on standby for custom sandwich, cake and cupcake orders.
Visit us online
or stop by our bakery counter when you're ready to start your special order.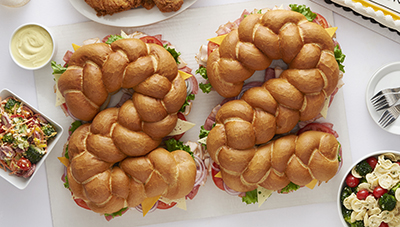 Our Celebration Subs are available as both letters & numbers.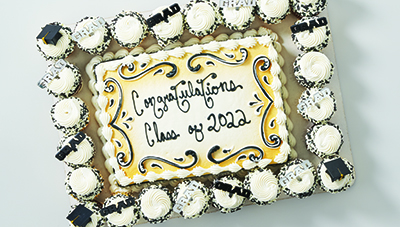 Our edible printed cakes can be endlessly customized!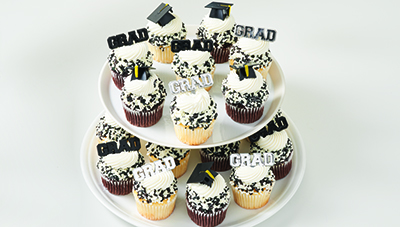 Say "2022" the sweet way with custom cupcakes.
How to Order
Ready to place your bakery or deli order? It's easy!
Just stop by the bakery or deli counter at your local Cub store to speak to one of our experts, or browse our menu of options online.

Party Packs & Trays

Our deli party packs are like a celebration in a box! The Deluxe Bun Box Party Pack comes with everything you need to make 60 ham and turkey sandwiches, while our Taco Fiesta Party Pack has all the essentials for a taco-tactic jamboree. Choose from custom party boxes and more from our online ordering menu. If finger food is what you're after, we've got you covered! Our wide line of party trays are ideal for all types of get-togethers as they come in a variety of styles and sizes. From classic meat & cheese platter or fruit-filled trays to Midwest-inspired arrangements or elegant caprese trays, we've got the concessions covered.


Custom Cakes & Dessert Bundles

The party isn't complete until there's cake, and we're here to help with that, too. Cub offers a variety of options for graduation party desserts, from simple sheet to custom tiered cakes. If cake isn't your grad's style, try our cupcake and donut bouquets, cupcake cakes or any of our dessert bundles for a little bit of everything. Browse all of your options on our online ordering menu, or visit our bakery counter to get started with one of our bakery experts.


Upgrade Alert: 3 Quick Chicken Dipping Sauces

Our chicken, available fried or grilled from our deli, is always the life of the party. Available to order in 48-, 100-, 200- and 500-piece sizes, Cub's chicken is a quick and delicious entrée for your upcoming grad bash. Make it your own by pairing with any (or all!) of these easy to prep dipping sauces.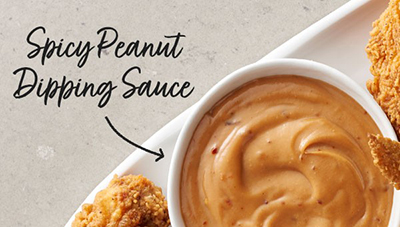 Spicy Peanut Dipping Sauce
Ingredients: • 1 1/3 cups creamy peanut butter • 1 cup water • 1/2 cup sweet and sour sauce • 1/2 cup dark corn syrup • 2 tbsp soy sauce • 1 tbsp crushed red pepper flakes Combine ingredients in small bowl; whisk together until well blended. Refrigerate 2 hours before serving.

You know what pairs perfectly with our hot 'n fresh chicken? Any of our delicious deli sides! From pasta salads to slaws, you can special order your whole spread from us.

Cub Popcorn Shop
Get the party popping' with our Popcorn Shops. Whether you're building a self-serve popcorn bar at your party or you just need something extra for the table, choose from over seven flavors of our popcorn, made fresh in store every day.

Build Your Own Donut Wall
Wow your guests with a sweet surprise! A donut wall is a great way to add a little fun to your graduation party, and you can make one in just three steps.
Materials
4'x4' pegboard
Paint in your desired color
Paint roller
Wooden dowel
Hand saw
Sandpaper
Your favorite Cub donuts!
Directions
Lay the pegboard down on a protected surface. Paint and let dry. Repeat with multiple coats until the color is even.
Gather the wooden dowels—depending on the size of the holes in your pegboard, they should either be 1/8 or 1/4 inch in diameter. Using a hand saw, cut the dowels into 3.5" long pieces. Sand the ends of the dowels so they're nice and smooth.
Insert the dowel pieces into the pegboards. On each dowel, hang a donut!